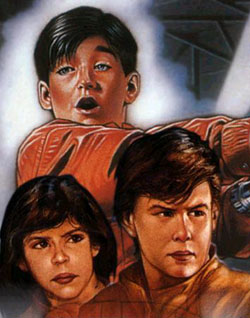 Here's a topic that was brought to my attention that may be worth some discussion, since we haven't had much of that for a while. What do you all think about the characterizations of the Solo kids? When/if you write them in your own fanfic, do you think of them all your own or do you utilize parts of the EU? Or would you rather come up with your own kids for them to have and shape your own personalities for them? What do you think Han and Leia's kids would be like?
For myself, honestly throughout the EU there really isn't much consistent characterization of those kids. I mean, in the most general sense, Jaina is a pilot like her dad, Jacen is into animals and is the more sensitive one (until he goes all dark side) and Anakin is especially strong in the Force. But as far as personality goes, I've never seen them go to much effort to give them much beyond generic mischievousness as small kids and a bit of a tendency to get into trouble thanks to their father. If anyone sees it differently, let me know. I also found it incredibly unfair that some of them died before they really got to become their own people.
As for myself, I think I'm right there with a lot of people in seeing Jaina as a Daddy's girl. I do like the idea that she takes after Han and is into piloting and I can see Han taking her to his ship and teaching her all of those things about it. Personality wise I can see her being stubborn like her mother, and not a girlie-girl by any means though again, neither was her mother. I can see her having a pretty strong personality and being able to hold her own in almost any situation.
Jacen, I honestly usually don't really know what to do with. They made him such a troubled character in the EU that it's tough to assign a personality to it. I guess I can see him sort of being like his Uncle Luke though, maybe taking everything a bit more seriously and his sister is often trying to get him to lighten up. Which maybe she even succeeds at on occasion.
As for Anakin, he died a little too young to get to do much, but in my own writing I kind of see him as being a little more silly and light-hearted. The funny little guy jumping in for some laughs. I don't really know why I see it that way, possibly as a bid for attention to claim his spot over his siblings. I also kind of see him as really enjoying any one-on-one time he might get with one or both parents. I even said that in one of my stories, but as the youngest and having there be two ahead of him I can especially see this as true. There was one book that said that Anakin was Han's little ally in keeping the older two in line as they had reached a troublesome age and I can see that sort of thing, too.
I don't know, it's difficult to say given that I guess not a lot of us really utilize them all that much and have much need to really come up with personalities for them but I thought it was an interesting question. Anyone have any thoughts?